Nation Media Group earnings and public debt markets in April

👋 Welcome to The Mwango Weekly by Mwango Capital, a newsletter that brings you a succinct summary of key capital markets and business news items from East Africa.


This week, we cover Nation Media Group earnings and public debt markets in April. 

---
NMG Resumes Dividends
Top-Line Growth: Nation Media Group's revenues grew 12% in FY21 to reach KES 7.6B. While the revenues are below the 2019 revenues by KES 1.3B, this is the first time since 2013 that the company experienced a jump in revenues. Other notable takeaways:
Television advertising revenue was up 25%.
42% annual growth in radio revenue
Digital revenue was up 20%
E-paper subscriptions edged up 8%
Going Digital: Print circulation declined by 9% decline with e-paper uptake of niche newspapers Business Daily and The EastAfrican growing 5% and 4% respectively.
Profitability: Gross profit grew by 13%, pushing profit before tax up 5X to KES 730.7M. The firm netted KES 493.1M [2020: KES 47M].
Dividends Resume: Earnings Per Share came in at KES 2.5 [2020: KES 0.2]. The Board of Directors recommended a dividend payment of KES 1.5 [2020: 0] translating to a 60% dividend payout ratio.
Buyback Programme: NMG saw an 82.5% uptake of its share repurchase scheme carried out between June and September 2021. The firm was in the market to buy back 20.71M of its shares (10% of issued shares) at KES 25/share.
---
Big Tech Lands in Nairobi
The Low-Down: In the last two weeks, global tech behemoths Amazon and Google opened centers in Nairobi – an illustration of Kenya's technological depth and a vote of confidence in Kenyan human capital. This is coming on the back of Microsoft's recent launch of its KES 3B African Development Centre geared towards scaling tech innovation on the continent.
Scope: Amazon is launching an AWS Local Zone in Kenya, a move that will see the tech giant set up cloud infrastructure in the country – and with it comes low latency performance and edge computing – a development set to benefit a wide array of end-users irrespective of their scale. Google is, on the other hand, opening a Product Development Centre where it will hire 100 tech talent. The centre is Google's second R&D centre in the continent after the Ghana AI Research Centre. [Mwango Capital]
Implications: The talent war is set to propagate even further as heavyweights outbid other players with competitive packages and benefits – all to the chagrin of local tech startups and corporates. However, this is good overall for the industry as the competition attracts more players not to mention the attendant quality benefits that will accrue to the tech industry. Whichever way you choose to cut this through, this is a net win-win for the local tech industry as the pool of opportunities, quality of talent, and foreign tech investment increases.
---
Public Debt Markets in April
Scoop: The CBK, on behalf of the National Treasury, has this April raised KES 60B from two bond sales that had a cumulative offer of KES 70B through a three-year and a reopened fifteen-year security. These registered performance rates of 85.11% and 108.49% respectively with interest rates for accepted bids coming in at 11.76% and 13.942%.
T-bills: At the top end of interest rates in the short-term public debt markets in April were rates from 364-day instruments which ranged between 9.743% and 9.755%. The CBK has been on an offensive – lengthening the maturity of public debt which has seen the composition of public debt tilt towards long-term Treasury bonds.
Investing Perspective: The highest interest rates in April government borrowing were in the bonds given all T-bill sales had sub-10% interest rates – reflecting the duration-return trade-offs an investor has to consider when investing in government securities. Investors who want to get exposure to these bonds can always do so through secondary market trading. 
---
What Else Happened This Week?
🪦 RIP Kibaki: Kenya's third President passed away on Friday. President Mwai Kibaki will be remembered for his contributions to the country's financial markets and economic governance. He will be laid to rest on Friday, April 29 in Nyeri County. [State House]
🪖 Regional Military Force: The deliberations of a meeting involving DRC, Kenya, Uganda, Burundi, and Rwanda included forming a regional military force whose first deployment would be to the DRC to combat armed groups in Eastern Congo. [Bloomberg]
📱 Safaricom-Ethio Tower Sharing Deal: In Addis Ababa, the government has reached a pact that will see Safaricom Ethiopia share Ethio Telecoms towers. After the data center and networking installations earlier this year, Safaricom Ethiopia Ops are gaining traction. [Business Daily]
💰 Government's Dividend Windfall: The government earnings from dividends and profits in 255 SOEs it fully or partially owns fell 37% YoY to KES 45B. Through its 35% shareholding in Safaricom, the government last year raked in KES 19.1B in dividends from Safaricom's KES 54.89B payout. [The Standard]
💸 Resolution under receivership: Following the collapse and subsequent placement under receivership of Resolution Insurance, the Policyholders Compensation Fund has outlined a compensation structure for the insurer's policyholders. [Mwango Capital]
🛞 Sameer 2021 FY Results: Revenues were down 14% to KES 651.6M while the cost of sales reduced by 69%. This translated to a 102% growth in gross profit to KES 491.1M and a 344% growth in profit before tax to KES 318.5M. Earnings Per Share were up 386% to KES 0.78. The firm will not be paying dividends for FY 2021. [Mwango Capital]
---
Interest Rate Watch
Botswana: In Gaborone, the Bank of Botswana's Monetary Policy Committee is expected to deliver its interest rate decision in the coming week on April 28. [Bank of Botswana]
---
Charts of the Week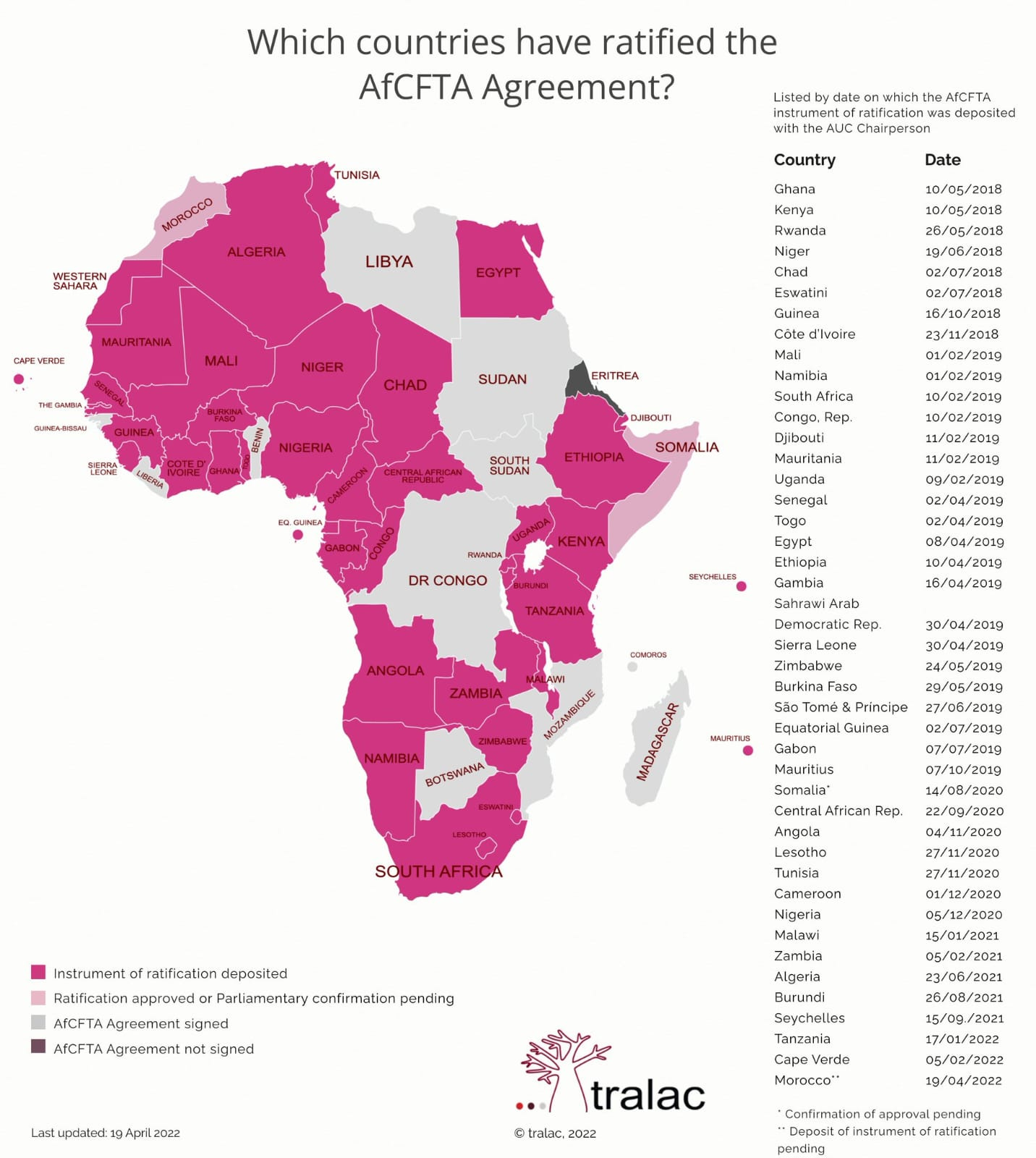 ---